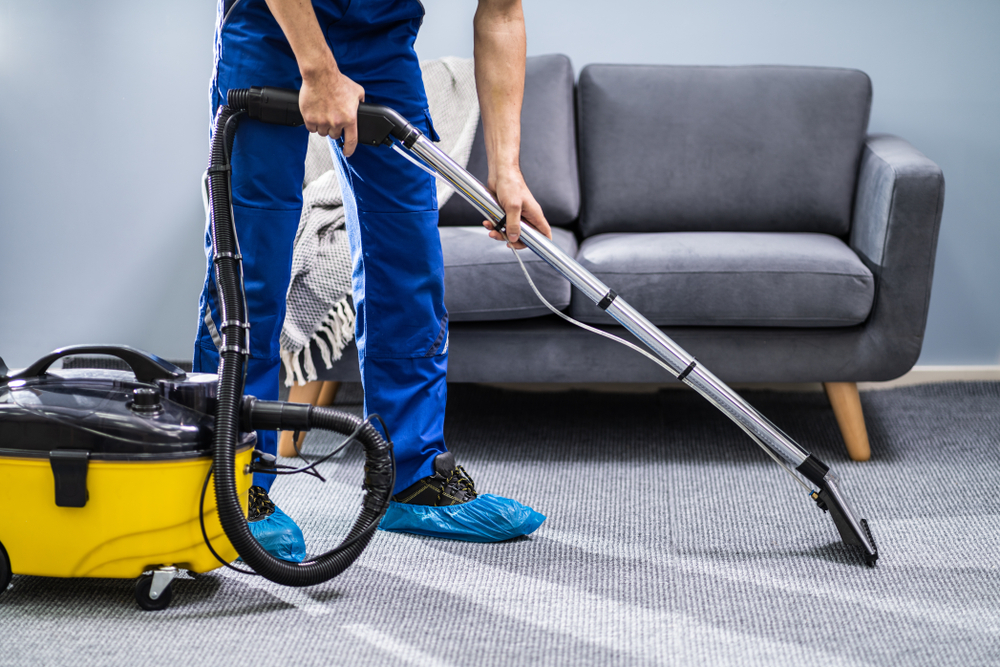 Unlike most areas of house cleaning, carpets can be a bit more challenging to clean because they often require special solutions and equipment. On the other hand, having everything you need to clean your carpets does not necessarily mean that you will achieve the results you desire. Even worse, certain cleaning products, improper use of equipment, and the wrong techniques or methods used can all lead to irreparable damage to your carpets.
With that said, routine carpet cleaning and removal of small stains can be handled without much trouble, however, when the job calls for a professional, you're going to want to find the best carpet cleaning company in Toronto! Of course, with so many to choose from, one is left with the task of separating the good, reliable carpet cleaning companies from those that are average, at best. 
Fortunately, we've done the hard work for you by comparing a host of carpet cleaning services in Toronto, and handpicking the best of the bunch! Right from their experience and customer feedback, to the types of carpet cleaning services they offer, we are certain that you will find just what you are looking for in the list below for the 5 best carpet cleaning Toronto-based companies. Read on!
5 Best Carpet Cleaners in Toronto
When it comes to finding the best carpet cleaners in Toronto, there are several highly regarded options to consider. Here are a few reputable carpet cleaning companies in Toronto:
#1 No More Chores
With minute attention to detail, excellent service, professional knowledge, state-of-the-art equipment, high-quality professional work, and nothing short of thorough, satisfactory results provided on every occasion, you simply cannot overlook the benefits of hiring No More Chores to clean and preserve your carpets. They go the extra mile to ensure that the carpet is not only cleaned to perfection but offer solutions to prolong the life of your rugs, too.
Here are three services that you should definitely consider booking from the Toronto carpet cleaning company and a few of the fantastic benefits that come with them.
Deep Cleaning Solutions
Surface debris, embedded dirt, stains, dullness, and all the things that make your carpet look dirty or drabby are combated with the company's superior deep cleaning process. Using high-quality equipment and fiber-specific techniques and products, deep-cleaned carpets by No More Chores promise safe, effective, and lasting results every time.
Carpet Odor Removal
Unfortunately, carpet fibers absorb all kinds of smells. Whether it's the air in the room, inevitable spills, or pets rolling around on the carpet, these accumulated odors can give off quite a foul smell, especially when combined with the regular musty odor that develops over time. The methods used to deodorize carpets will effectively remove bad smells as opposed to temporarily masking them, leaving the carpet fibers feeling and smelling fresh again.
Carpet Protection
While routine vacuuming and deep cleaning are necessary for hygiene and maintenance purposes, taking measures to protect the carpet and its delicate fibers extends the carpet's life. For this, the company uses a special carpet protector that is very difficult for stains and dirt to penetrate. This carpet shield also protects the fibers from damage caused by regular use or foot traffic, allowing your carpets to preserve their newness for years to come.
#2 Love Your Rug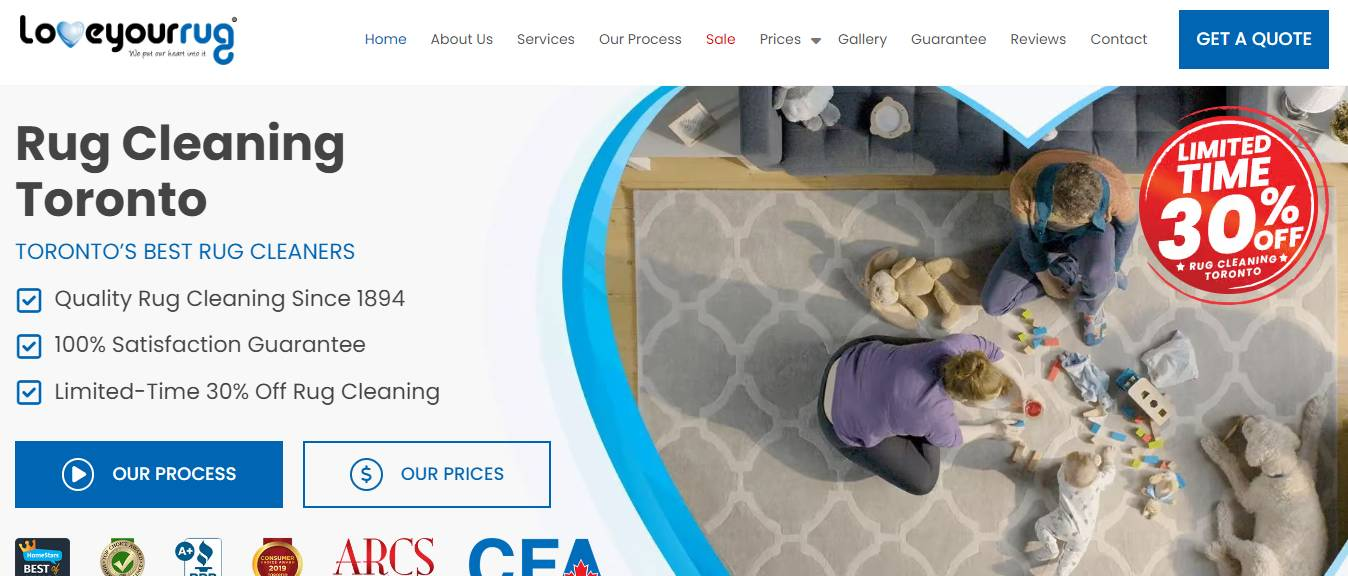 As an award-winning carpet and rug cleaning service in Toronto, you can't go wrong when you choose Love Your Rug to clean your used furniture, carpets, and area rugs. This company is also known as the best optimal upholstered furniture cleaning service.
If you are comparing top carpet cleaning companies in Toronto, mentioned below is some note-worthy information about Love Your Rug.
Highly Accomplished & Experienced
Founded in the late 1800s, the company has extensive experience in the field of cleaning and restoring carpets and rugs. Since establishing themselves a few years back as a leading carpet clean rug cleaning company in Toronto, they have upheld their reputation for providing quick and reliable carpet cleaning solutions for carpets/rugs all through the years!
Wide Range of Services Offered
The company is a one-stop shop for cleaning, repairing, and restoring carpets and rugs. Even when you think your carpet may be a lost cause, their complete rug cleaning and repair services can bring it back to life!
Choose Between In-House & In-Studio Cleaning
The convenience and benefits of having your own carpets professionally cleaned up picked up and taken to a professional carpet cleaning studio is something many residents in Toronto don't take for granted. Of course, if you would rather have their talented cleaning staff members come to your property and work on the carpets there, they've got you covered!
Up-to-Date Technology Used
To ensure that no carpet area rug cleaning requirement is outside of their area of expertise, Love Your Rug is constantly on the lookout for new and innovative technologies and equipment to handle both small-scale and large-scale carpet oriental rug cleaning jobs.
#3 Five Star Cleaning
Heavy-duty carpet cleaning is, without a doubt, a job best left to the professionals. Whether you are dealing with heavily soiled carpets, water-damaged carpets, or construction debris on your carpet, you will need professional and reliable carpet and equipment to restore the rugs to their original condition. To take care of these specific carpet cleaning needs, Five Star Cleaning is your guys!
Here are a few things to know about the company and what it can do for you.
Additional Services Offered
Along with carpet cleaning, area rug cleaning, and deep cleaning of furniture such as dining room chairs, armchairs, headboards, sectionals, couches, sofas, office chairs, and armchairs and upholstery are two additional services offered by Five Star Cleaning.
Available Night & Day
They operate 24/7 for emergency/flood-related damage, ensuring that any water damage caused to your carpets or area rugs is not permanent.
Certified Professional Carpet Cleaning Company 
Their certifications restoration certification in mold inspections, reliable carpet and duct cleaning, and carpet restorations ensures that they are skilled technicians and reliable carpets. They are well-equipped and thoroughly trained professionals to provide solutions for all carpet-related problems, including water damage.
Protection of Carpets and Area Rugs
Among the various carpet cleaning and restoration services they offer, scotch guarding is one of them. This process, primarily when handled by pro carpet cleaning technicians, protects your carpets and area rugs from stubborn stains and damage.
Green Carpet Cleaning Solutions
They are committed to providing eco-friendly alternative delivery services for valued customers for their house-cleaning services and regular carpet cleaning services.
#4 All Star Chem-Dry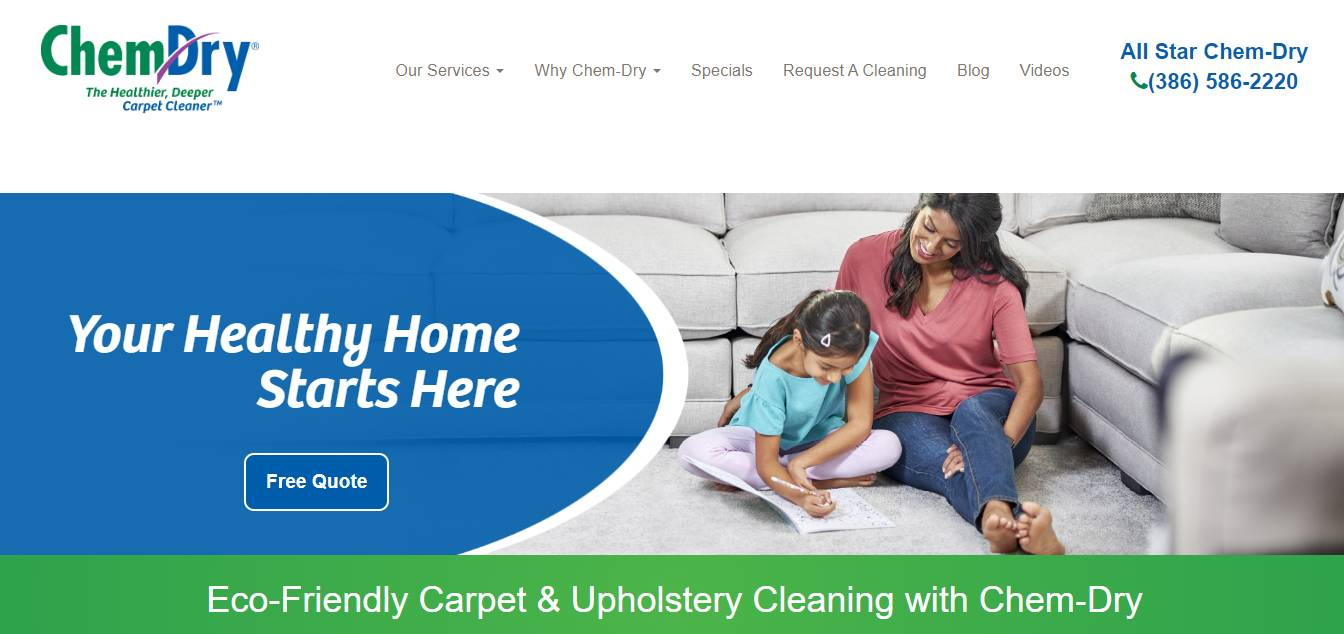 In their bid to do things differently, All-Star Chem-Dry found a way to deep clean carpets in the safest and most natural way. They are highly experienced in the carpet cleaning industry for over two decades in both house and commercial carpet cleaning and cater to the city of Toronto, as well as other areas, including Markham, Woodbridge, King City, and Georgina.
The standout benefits you can expect when you hire their carpet cleaning service or area rug cleaning services are mentioned below.
Non-Toxic Cleaning Solutions
Carpets are effectively cleaned using all-natural products and ingredients. With no traces of chemicals to worry about, you can rest assured that your children and pets alike are never at risk.
100% Satisfactory Deep Cleaning
Say goodbye to allergens, dirt, pet stains, and the likes with a meticulous deep clean of your carpets by Chem-Dry.
Super-Fast Drying Time
Owing to the use of minimal moisture when deep cleaning carpets, the drying time is typically no longer than two hours while the risks of mold/mildew development, damages to the floor, and shrinking of carpets are also eliminated.
As Good As New Results
With years of experience under their belts, top-of-the-line equipment at their disposal, and the skill and know-how to tackle stubborn carpet stains, dirt, and dullness, your carpets will look as good as new at the end of the service.
#5 Babayan's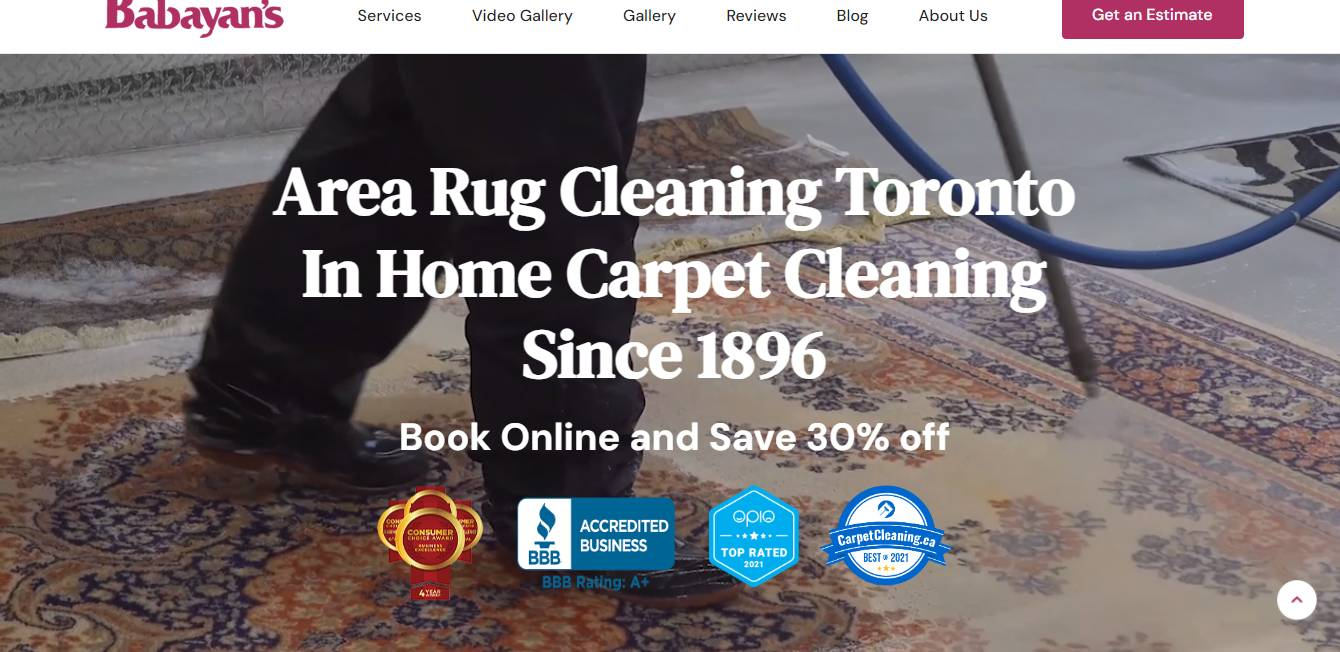 A family-owned company that has been around since the early 1900s and most certainly made a name for itself right here in Toronto, Babayan's carpet cleaning services take care of carpet maintenance, repair, and restoration of carpets and everything in between.
Here's a closer look at what this well-established carpet cleaning service company offers residents of Toronto.
Fully-Equipped Cleaning Facility
On request, or if advised, the first carpets cleaned will be picked up from the location and taken into the company's Toronto-based cleaning facility, where they will receive a careful and thorough clean to remove dirt trapped within the fibers and backing, as well as stains, and foul carpet odors.
Reliable Carpet Maintenance
They know exactly what it is above and beyond it takes to extend the life of all types of carpets and area rugs with their customized maintenance programs. These can be scheduled as a recurring service or a one-time service and are suited for both residential and commercial carpets.
Water Extraction & Carpet Restoration
With 120+ years of experience in the carpet and upholstery cleaning and care industry, Babayan's is well-equipped to clean and efficient in quickly removing water/moisture, drying carpet upholstery, and cleaning the carpets to minimize water damage. Of course, if you are dealing with damaged carpets, they will take care of that, too!
IN CONCLUSION
While hiring the right carpet cleaning company for you will depend on your specific requirements, it helps to know the best carpet cleaners in Toronto to narrow down your search. In this article, we have shared Toronto's five best carpet cleaning companies that offer a wide range of carpet and rug-related services, therefore allowing you to have all your needs met by incredibly experienced, reliable, and capable carpet technicians.
One must note that regular DIY carpet cleaning in the form of vacuuming, spot-cleaning stains, and even routine steam cleaning (for those who own a steamer) will help keep the carpet looking relatively good. However, a deep clean by trained and equipped professional carpet cleaners is absolutely necessary when it comes to maintaining and prolonging the life of your carpets.