North York Cleaning Service in Toronto ON
No More Chores offers you a comprehensive North York cleaning service that will make your life easier and get your home sparkling like never before. Whether you need to clean before or after moving in, a post-renovation, or a through deep clean, there's no better way to clean in the GTA.
Discover North York, Ontario
North York has gone through many changes throughout the 20th and 21st centuries, especially after booming in the post-World War II economy which saw it transition from an agricultural hub to a sprawling suburb like those found in the United States. Today, North York's population is highly multicultural, as it is estimated that over half of them were born outside of Canada, making the city a very diverse experience for residents and visitors alike, and with many neighborhoods with large immigrant populations becoming representative of their culture, such as North Koreatown and Little Manila.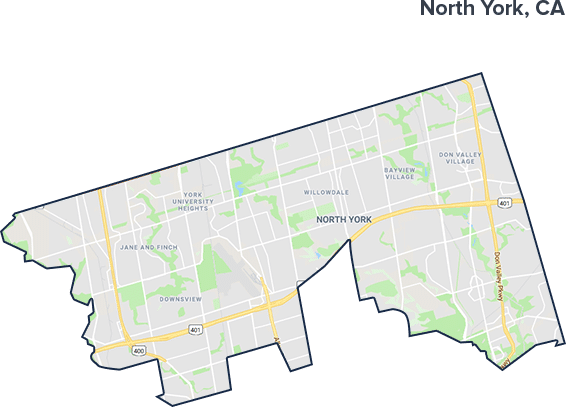 North York House Cleaning – Quality Services
Whether it's maid services, office or house cleaning, getting ready to move in/out, bringing a room back in shape after renovations, and even Airbnb cleaning services, No More Chores is your one-stop solution for all of your cleaning needs! From the moment you book with us, we work hard to give you every reason to call us back with a smile again and again.
Have your home pampered by trained, experienced, licensed and insured maids. They will clean and maintain your home as attentively as it were their own.
Whether you need standard cleaning, Deep-Clean or Move-In/Move-Out house cleaning in North York area, No More Chores is North York homeowners' go-to choice.
Our professional cleaners remove dust and debris from your newly constructed home or office with precision, skills, timeliness, and a smile!
Commercial/Office Cleaning
Give your office or commercial space that extra 'pop' – use a premier North York cleaning service. Enjoy the value our service adds to your life.
We are the first choice when it comes to Airbnb cleaning service North York. Our maids are detail-oriented, efficient, and will provide you with a post-cleaning report with images.
Move-in/Move-out Cleaning
Start with a clean slate if you've just moved in, or leave your home clean and tidy if you're moving out with our move-in/move-out North York cleaning service that includes deep cleaning!
Top Things To Do in North York
The Ontario Science Centre is home to world-class exhibitions and programs and the centerpoint of public dialogue on a wide array of scientific-oriented matters, such as technology, the relation between scientific advancement and society, 21st century learning, young people's role in the science community, innovation, and more. As such, it is a vital part of the backbone of Ontario's educational community, both students and teachers of all levels, but people from all walks of life will definitely enjoy the experience and learn a lot.
Those wanting to learn about Islamic civilizations and culture from a unique perspective will want to visit the Aga Khan Museum, which collects Islamic and Iranian (Persian) art, and Muslim culture, making it the first museum in the western world dedicated entirely to these type of arts and objects. The permanent exhibit features more than a thousand artifacts from the private collection of Prince Shah Karim Al Hussaini, Aga Khan IV, founder of the museum.
The Toronto Botanical Garden is a four-acre spanning garden full of all types of plants and flowers, but that's only the beginning. There are both indoor and outdoor learning opportunities all over the place, a series of guided tours and free music events, family events, day-camp programs for children, and more. People can even host their own intimate event in the beautiful Garden Hall, for both formal and informal occasions.
Home Cleaning Done Right. Every Time.
There's a reason we are the highest-rated cleaning service in the Greater North York Area, and it's that we don't cut corners when it comes to delivering the best results. We offer a wide array of cleaning services to pamper and care for your house the way it deserved to be treated.. Our team is highly-trained, fully licensed and insured, and is very attentive to details, so you know that you're getting the best treatment possible regardless of the situation!
No More Chores, 25 Selby St, Suite 1105, Toronto, ON M4Y 0E6
We proudly clean all of North York and Toronto suburbs. If you're not sure if we will service your area please give us a call.
Why Choose a Professional Cleaning Company
What are the advantages does No More Chores offers? Well, they start as soon as you choose us to do all your house cleaning! Our booking system makes it so that you don't have to click more than a couple of times to pick the date that suits you the best – 24/7. Our prices are transparent and flat-rated, and you won't ever have to deal with cash. You can find us online or call us at any moment and we'll be there for you, and that's only the beginning!
Insured and Background Checked
We take your safety and security seriously. All our staff undergo identity checks and in-person interviews.
Cleanliness is addictive. Sign up for weekly, bi-weekly or monthly North York house cleaning service and get up to 15% off.
Chores can be draining and eat up hours of your day. When you hire No More Chores, you'll spend less time cleaning and more time living your life.
Instant Easy Online Bookings
Our state-of-the-art system makes booking a cleaning simple and convenient. Book a cleaning any time, any day of the week – 24/7.
Transparent flat-rate pricing. And with our secure payment systems you don't deal with cash, and can quickly pay for services with zero hassle.
Outstanding Communication
Staying in touch with your cleaners is easy. A reliable North York cleaning company, we do things online, and you can call us any time.
Our Beautiful Cleaning Projects
We like to build long-lasting relationships with our customers, so your satisfaction is and will always be to guarantee your total satisfaction with our services. Being in constant communication with you and what you need is part of our job, so don't be afraid to let us know everything that's on your mind concerning your house!

And afterwards, if your experience was positive, be sure to share it with us so we can let the word be heard all around Ontario!
Hearing what you have to say about our work is one of our favorite things to do because it lets us know what you liked, what you loved, and how we can improve in the future. We collected some of our favorite comments in the hopes that, if what you have read so far is not enough to convince you, our many happy customers will!
Had a great experience with No More Chores, ordered a deep clean of an Airbnb loft space. The loft was absolutely wonderful, walls and floors washed, fridge, bedding looking fantastic. Very impressed with the service, booking, price, everything. Highly recommended.
My husband and I run and Airbnb and thanks to Grace and the whole team, they are always unbelievably fast in their responses, and always provide fantastic results! I highly recommend using No More Chores for all your cleaning needs. They really care and take the time to simply be awesome. Thank you guys. Grace,…
This is the best cleaning service in the city of Toronto. I have been operating short term rental apartments for over 3 years now, and have tried multiple options until I came across NMC. I have now been working with them for close to a year now and my only wish is that I find…
"It was AMAZING. They were able to get the place far cleaner than I had anticipated."
"I was so, so very impressed with how beautifully clean the home was on the day that the new owners moved in!"
"No More Chores sent Kay's team to my home. The three cleaners were very polite, nice and did an incredible job. These people are professionals, they know what they are doing. They did the work in no time but really paid attention to every detail. They really go through the list of things they are…
We love to share our thoughts, ideas and knowledge on all things cleaning and North York-related in our blog, which we update constantly. It would be awesome if you could check it out and find something that catches your fancy! And if there's anything you want us to talk about in the future, make sure to say so in the comments.
Hire the Best House Cleaning & Maid Services in North York!
Easy to book and hard at work, that's the No More Chores way. We make it our mission to give you the absolute best service regardless of space, time of day, or anything else so that you can finally relax like you deserve and haven't been able to for so long. After all, that's why our name is No More Chores!